Dreaming of a business that feels amazing to show up to every day? 

I'LL LET YOU IN ON A LITTLE SECRET ABOUT MAKING YOUR DREAM VISION FOR YOUR LIFE A REALITY...



How you feel in your body directly impacts the results you get in your business. 
If your body's nervous system is dysregulated, so is your business.
This looks like:
FEELING LIKE A FAILURE
You are trying to balance work/family/personal time and feel like an unprofessional hot mess and then at the end of each week you're stuck with a never ending list.

INABILITY TO MANIFEST GOALS
You constantly struggle with imposter syndrome while feeling the need to prove your worth by trying too many strategies leading to lack of clarity and structure.

WAKE UP WITH DREAD & ANXIETY
You're stuck in the fear mentality driving most female entrepreneurs to accept anxiety as the new "normal". Losing your sense of self and passion along the way.

LACK OF BOUNDARIES
Late lights and unhealthy habits are justified so you put your bodies needs last in the name of "success".
PROCRASTINATION
Your self-criticism has gone through the roof due to feeling detached and 'lost' in your business making you never want to start or finish anything.
What if prioritizing the way you feel in your body daily, meant you could finally show up as the successful woman you have always wanted to be?
Confident, productive, financially abundant in your work, connected with your loved ones AND grounded in your inner being and self-expression?

Besides, what's the point in hustling your way to six figures if you arrive there burnt out, disconnected and depressed?
It's time to ditch that hustle mentality and create wealth FROM THE INSIDE OUT!
It's not just about the strategies.
It's about
WHO and WHAT you are embodying

while implementing those strategies that counts.
SO, ARE YOU READY TO CREATE SUCCESS AND INNER FULFILLMENT
THE EMBODIED WAY?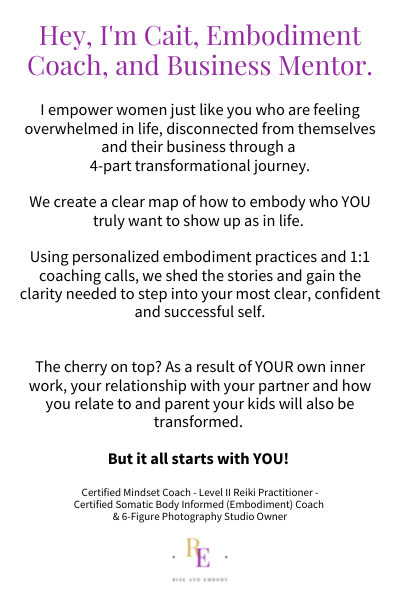 It is a powerful formula that I recommend without hesitation. If you want to open up to your long buried potential, this is the perfect way to access it !!
WHAT DOES THE 4-PART BUSINESS EMBODIED
JOURNEY LOOK LIKE?
"Cait has given me the body and cycle awareness I need to ensure that my needs are met while working full-time and raising my 5 kids. Having an embodiment coach has forever changed how I respond to pressure and challenges." -Ashley V.
What You'll Get
Tools that will keep you moving on your self-devotion journey.
Ready to get started?
Start by filling out the form below, next I will contact you via email so that we can set up a time to discuss further the program options and your vision.
How do I get started?
Fill out the form above.
I will send you a welcome email with all the information and links you need from there!
What can I expect as far as workflow of the experience?
Inner work guidance and workbooks to prep before each call.
Safe support to process during our 1:1 time together.
Self-led rituals & after call care instructions.
Notes summarizing breakthroughs during the call and action steps between calls.
This process was created for women and especially mothers who struggle with:
Burn out, anxiety, insomnia, sister wounds/abandonment, lack of self-worth, insecurity, overcompensating, hustle push mentality, lack purpose/fulfillment, disconnection/lack of love for their bodies, & limiting beliefs around their self-expression and sexuality.
I create customized packages for my clients depending on their specific needs. We can start with an initial 75 min introductory call for 111$USD and then from there you can purchase packages of 4, 8 or 12 calls= packages.
You save 10% on your package if you decide to pay in full, or you pay a monthly rate.
What results can I expect?
No result is guaranteed. Your inner healing and results are up to you to create. I serve as your guide. Some of the results past clients have experienced and which I aim to provide are : a deeper connection with your body, body gratitude, spiritual awareness, lessened anxiety, ability to identify and process limiting beliefs, confidence in how to consciously communicate with their partners and and improved relationship/sexuality.
Will you share my story or information?
What you choose to share with me is 100% confidential and sacred. You have the choice to record our calls for your own records, I will never record or share what is written or said to me during our time together without your full written consent.